In this article: 

Where your arsenic toxicity comes from.
---
Beyond the glycemic index issues around weight gain with rice I want to let people know there are arsenic toxicity issues and how to avoid them and still eat rice.
I read that we sometimes will make fat cells to lock away toxic substances and that it is very difficult to get your body to liberate fat before detoxing those substances as your body will hold on to that fat to keep the toxins locked away. Maybe the detoxifying action of drinking lots of water is behind the recommendation to drink to encourage fat loss, but I suspect there will be other more complex metabolic processes involved also.
I notice a pattern in my daily practice as a homeopath treating autistic children: there were very high rates of arsenic in hair tests of children from ethnic groups from the Indian subcontinent. This is the case even when they were born and live in the UK and the USA.
In parts of Asia with arsenic-rich bedrock, certain bacteria cause arsenic to be reduced into a soluble form in well water & arsenic contamination is a large problem.
But if the children are born and live in the UK or the USA, arsenic toxicity it isn't coming directly from contaminated well water. Is it transferred down from mother to child? Possibly.
However, it is very likely to be from a diet rich in rice grown in arsenic-rich soils as discussed in this article.
Another major problem is the substitution of wheat-based carbohydrates for rice-based ones … such is in gluten-free diet alternatives.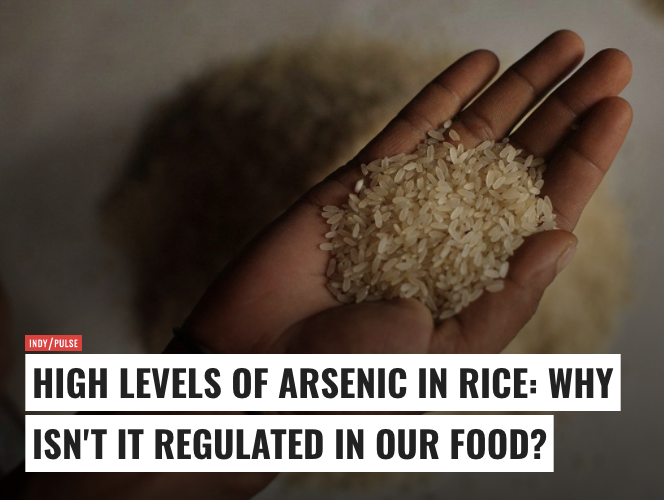 credit: The Independent.
Recommendations for avoiding arsenic from rice consumption:
Avoid gluten-free products containing rice.

Source rice from regions with lower grain inorganic arsenic concentrations – for example, basmati rice is two to three-fold lower in inorganic arsenic than rice

from the European Union

or from the US. Cooking rice in a large excess of water also helps to remove inorganic arsenic.

link

.
Need an Arsenic Detox?
One of the gentlest and most effective ways to detox arsenic is through homeopathic detox.
Arsenic detox via homeopathic remedies has been proven to be effective: https://www.ncbi.nlm.nih.gov/pmc/articles/PMC1297497/
There are other ways involving chelation [like ACC], but they can be pretty heavy on the adrenal system and organs and do not restrict elimination to toxic metals and may seriously deplete essential minerals.
Homeopathy is definitely an effective and safe way to detox arsenic.
---
Footnotes:
1: https://www.ncbi.nlm.nih.gov/pmc/articles/PMC1297497/ "Can Homeopathic Arsenic Remedy Combat Arsenic Poisoning in Humans Exposed to Groundwater Arsenic Contamination?: A Preliminary Report on First Human Trial"
---
Photo by Omer Rana on Unsplash
Hits: 54